CHECK OUT THIS VIDEO BELOW!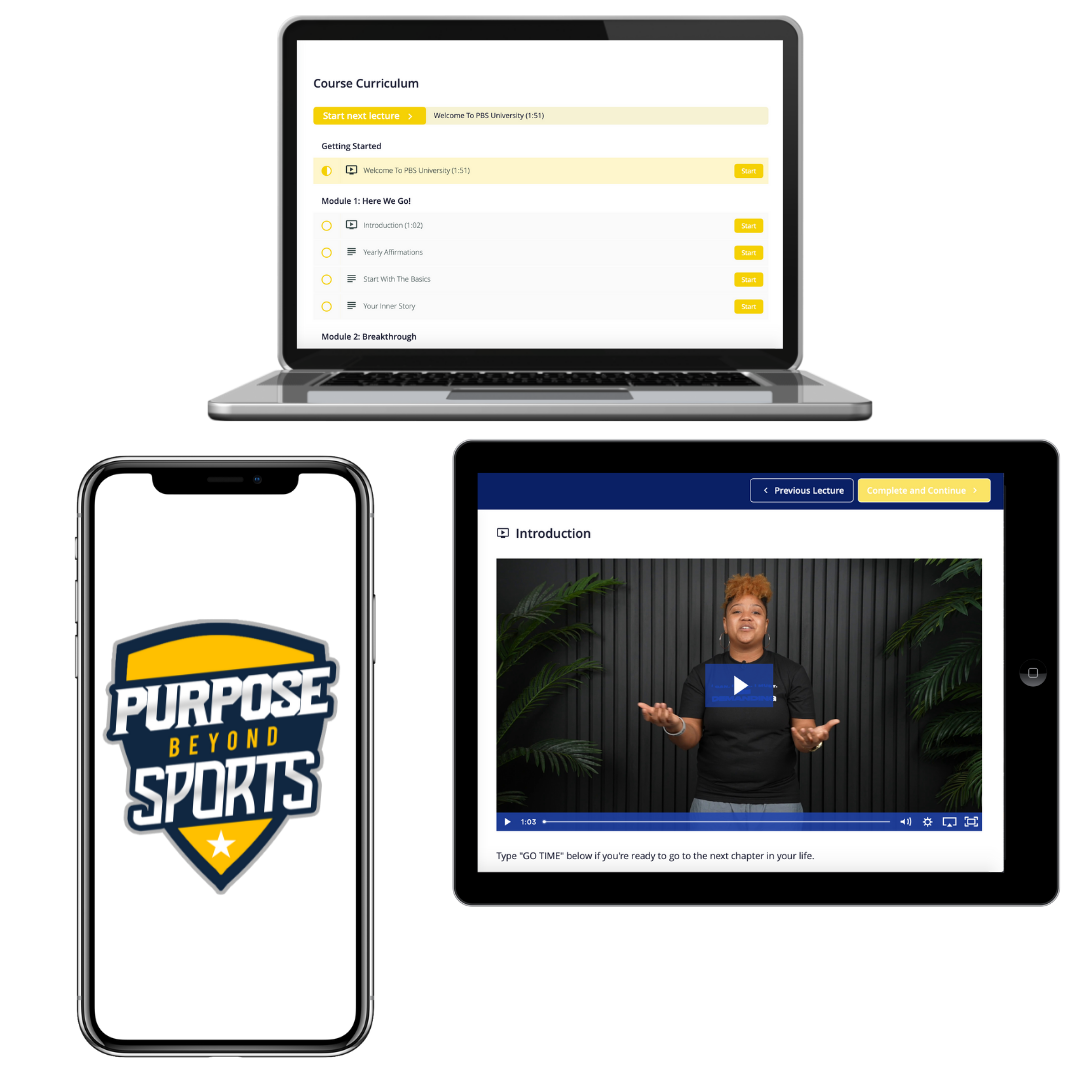 What is PBS University?
44% of FORMER ATHLETES suffers from:
Identity loss,
Depression,
Believed they've failed
Emotional eating,
Loneliness,
Suicidal thoughts and more...
ALL BECAUSE THEY'RE NO LONGER PLAYING THEIR SPORT.
Purpose Beyond Sports University is a online course and community designed with you the athlete in mind, to help you find your purpose while building a viable brand post-career.
After putting years of effort into one thing, no one (not a coach, trainer, athletic director or an academic advisor) ever emphasized how to prepare for the last days of playing your sport.
Due to the amount of energy and effort that an athlete puts into their sport, they never have time to find out more about themselves until the game stops. However, this is also when they face their darkest moments as well.
This course was designed to help you heal from your past, but to also help you rebrand yourself post-career by finding your "ONE BIG THING" without eliminating your love for sports.
I HEAR FORMER ATHLETES TELL ME ALL THE TIME THEY...
LOSS THEIR IDENTITY
FEEL MENTALLY DRAINED
ARE CONFUSED ABOUT THEIR LIFE'S DIRECTION
DESIRE MORE IN LIFE BUT DON'T KNOW WHERE TO START
WORKING A JOB YOU CAN'T STAND
FEEL LIKE THEY'VE FAILED
FELT OR FEEL EMBARRASSED
FEEL LIKE THEY HAVE NO PURPOSE
FEEL LIKE THEY'RE JUST SETTLING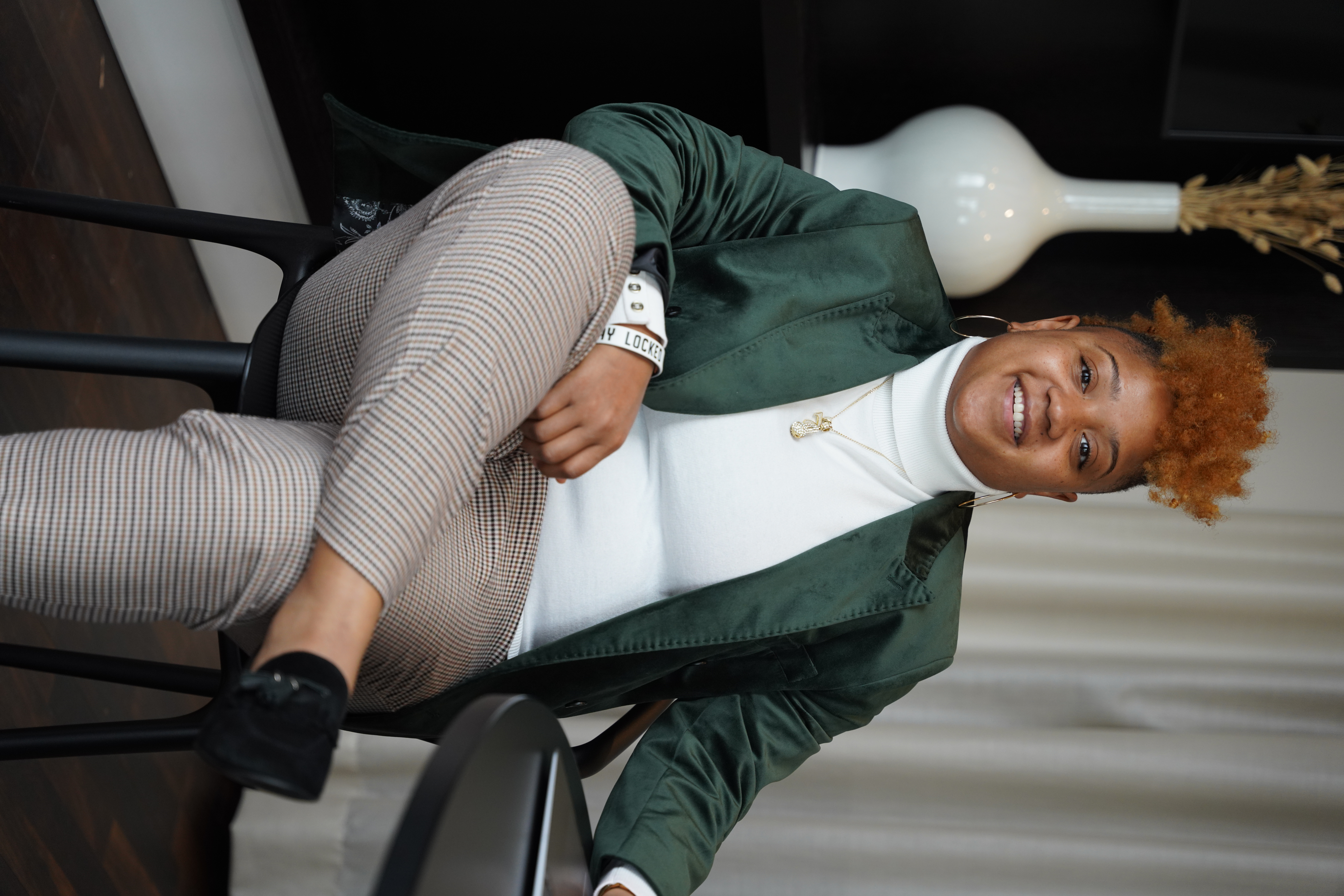 WHAT'S IN THE PBS UNIVERSITY COURSE?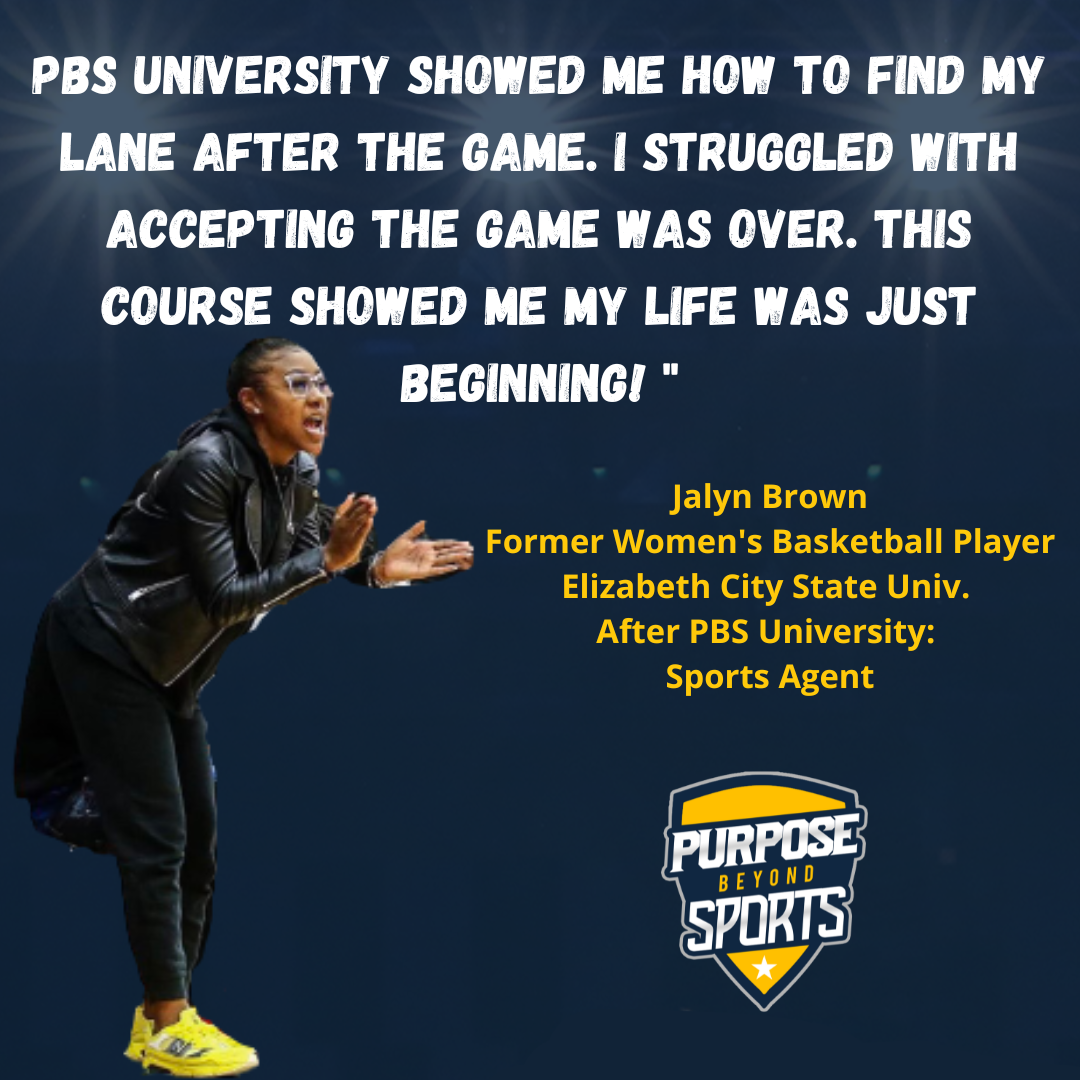 Jalyn Brown
Former Women's Basketball Player
DII: CIAA - ECSU
After PBS University: Sports Agent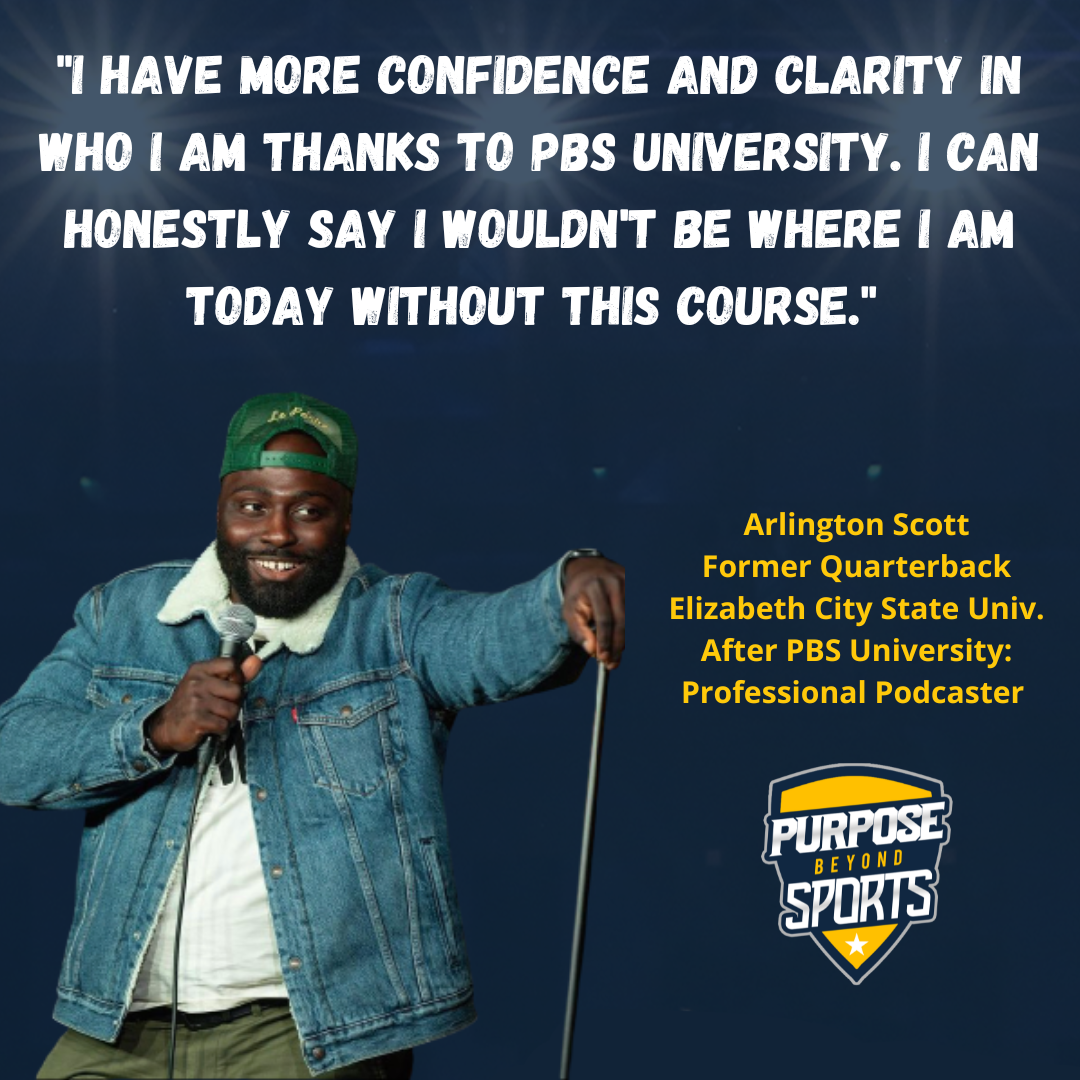 Arlington Scott
Former Quarterback
DII: CIAA - ECSU
After PBS University:
Professional Relationship Podcaster
THIS SHOULD AND CAN BE YOU!
FEEL MORE ACCOMPLISHED
EXCITED ABOUT LIFE
HAVE A PURPOSE AND DIRECTION
DEVELOP A BRAND THAT COULD MAKE YOU MONEY
LEAVE A LEGACY FOR YOU CHILD(REN)
REGAIN YOUR SELF-CONFIDENCE
FORGIVE YOUR PAST
THANK THE PEOPLE THAT HELPED
TREAT YOURSELF WITHOUT THE GUILT FEELING
& SO MUCH MORE...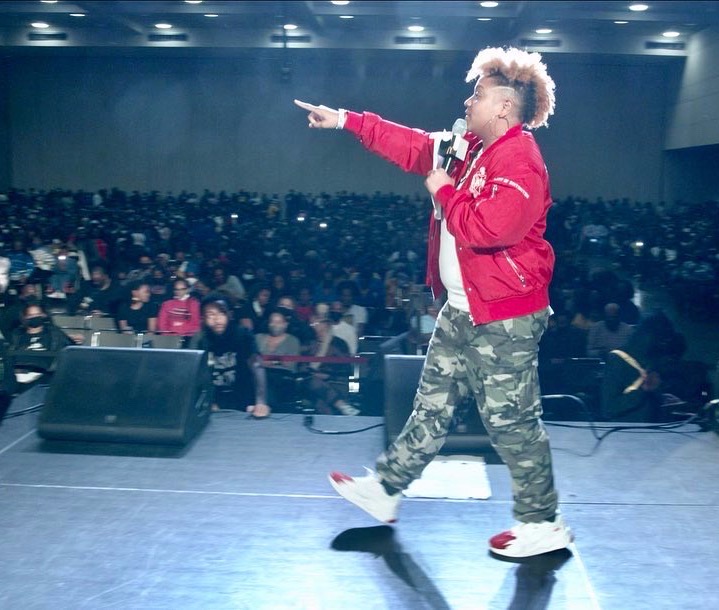 MEET YOUR COACH - JAYCEE RUFFIN
Best-selling author, host, speaker, former star-athlete turned athlete transition coach, JayCee is one of the top upcoming motivational speakers and host in the game.
The dream was always to make it to the WNBA, however, June 10, 2009 was the last year her name was attached to any roster.
Unfortunately, she never received her moment of shine in a collegiate uniform due to the negligence of a few coaches. She tried three Universities, three different coaches only to never fulfill her dream of playing in college. Recruited, invited to preseason workouts, countless open gyms, endless workouts and weight lifting sessions, only to hear the words, "You'll never be good enough to touch the floor" from a college coach she was once offered to play for. JayCee became depressed, lost her identity, felt like she failed herself and her family, started emotionally eating and gained weight. Even had suicidal thoughts.
It wasn't until her last collegiate year that she determined what her "ONE BIG THING" is which now has helped her build a five-figure multi-layered brand in the "edutainment" industry.
Today after finding her purpose beyond sports, she is a national radio personality, certified motivational speaker under Dr. Eric Thomas and an Athletes Transitions Coach.
...All because she took the steps she's giving YOU in this course!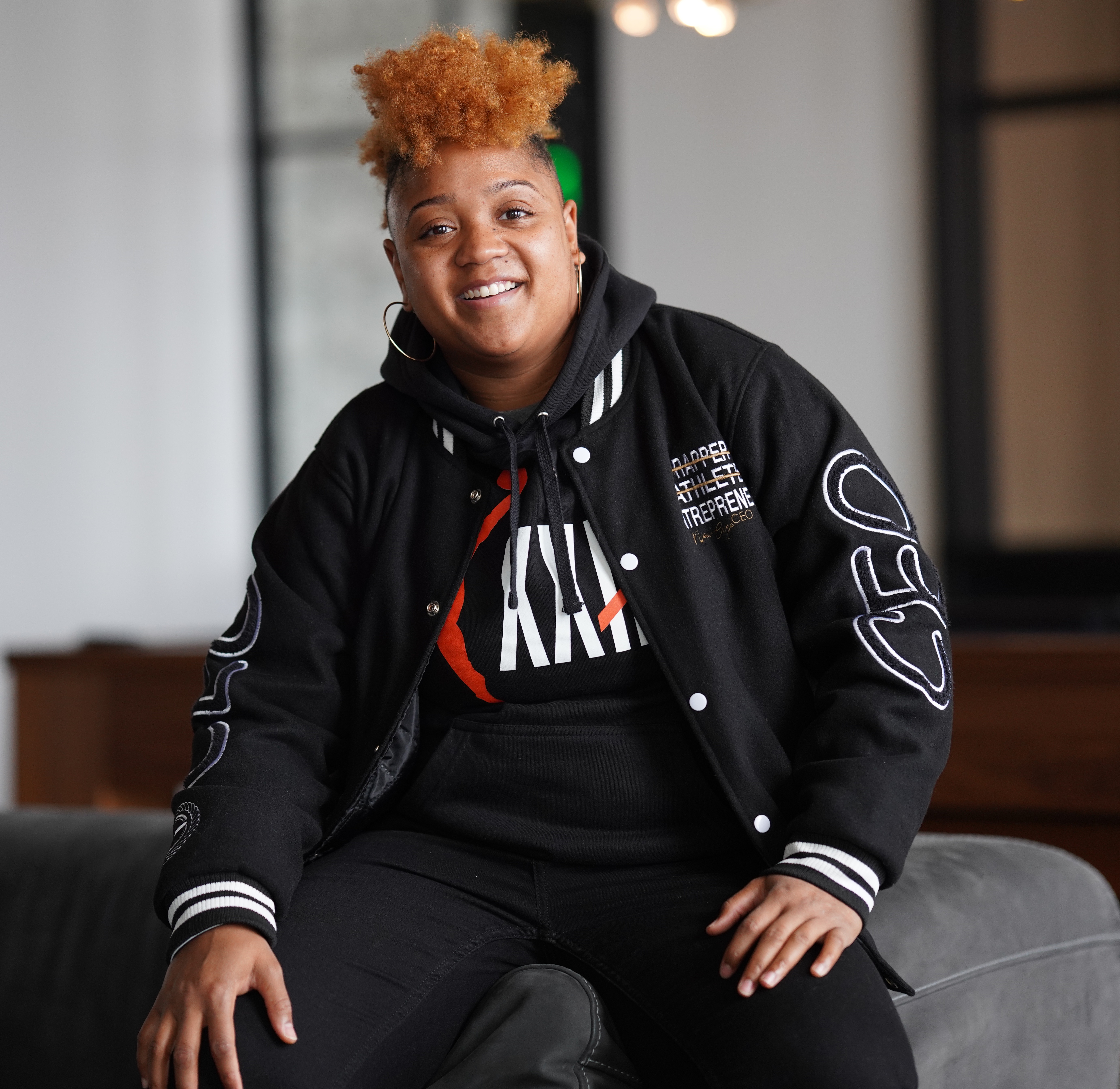 AFTER YOU ENROLL IN PBS UNIVERSITY YOU WILL...
HAVE A DIRECT UNDERSTANDING FOR WHAT YOUR PURPOSE AND NICHE IS
DEVELOP A WHOLE NEW TYPE OF SELF-CONFIDENCE
HAVE A DESIRE FOR MORE IN LIFE
SLEEP BETTER KNOWING YOU HAVE A PURPOSE FOR WAKING UP
STOP FEELING THE SENSE OF FAILURE
INCREASE BELIEF IN YOUR ABILITY AND BRAND
START A LEGACY THAT YOU WILL PASS DOWN TO YOUR KIDS